Sponsor Highlight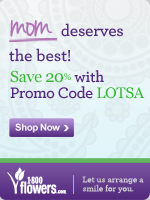 Mom means so much. Send her the very best! Express yourself perfectly with truly original Mother's Day arrangements, colorful bouquets, blooming plants, gourmet food baskets and more great gifts that are guaranteed to make Mom smile every time.
Lotsa Members save 20% using promo code LOTSA
Sign into your Community
Check in on your Community, share a photo or well wish or sign up to help. Sign into your Community here.


Lotsa Marketplace
Have you visited the Lotsa Marketplace recently? Check out the companies we have listed for special deals, as well as products and services that can help you in your journey.


Resources for You
Lotsa Helping Hands partners with more than 50 of the nation's leading nonprofit organizations that provide information and resources to members of its communities. Check out our partners for more information and resources.
Get Started
Lotsa Helping Hands powers online caring Communities that help restore health and balance to caregivers' lives. The free service brings together caregivers and volunteers through online Communities that organize daily life during times of medical crisis or caregiver exhaustion in neighborhoods and communities worldwide. Create a Community for yourself or someone you love today.


Share Lotsa Today!
Finished reading the newsletter? Take a moment to share Lotsa with friends and loved ones.


Dear Friend,

WELCOME TO LOTSA COMMUNITY WORKS

Featured this month: Every April, Points of Light Institute and the HandsOn Network team up for National Volunteer Week, in an effort to inspire, recognize, and encourage people to engage with their communities in meaningful and imaginative ways.

National Volunteer Week is about taking action and encouraging individuals and their respective communities to be at the center of social change – an idea that has always been important to us here at Lotsa Helping Hands. In the past month alone, we've heard from members in Lotsa Communities who have rallied around their friends and family for support. One member in a retirement community in Arizona spoke of her community coming together to support and comfort a friend who had been diagnosed with ALS. A retired teacher in Texas shared how she volunteers at local animal centers and with local caregiving support groups in her town. And we also heard from a wife of a retired Coast Guard captain who has volunteered to help the families of young veterans dealing with posttraumatic stress disorder (PTSD). These are just a few of the amazing and inspiring stories that you all have shared with us!

Among the many, one story stood out to us. Leigh-Ann told us how an outpouring of help and support when she gave birth to her daughter inspired her to give back to mothers like herself. "When I sign up to bring dinner to a family in need I remember how great it felt to receive a nice home-cooked meal and not have to worry about going to the grocery store or cooking. It's the little things in life, like this, that make a difference and help you get through the challenging times."

This April, think of the ways you can inspire, recognize, and encourage your community to get involved. There are no limits to the ways in which you can help, and there is no act of helping too small. If you need a place to start, consider making a promise to help a caregiver during The Year of Helping Hands. Make a promise today and read the hundreds of promises already posted here.

From our Community to yours,

Hal Chapel, Co-Founder & CEO





Lotsa News

AARP Tennessee Partners with Lotsa

We're excited to partner with AARP Tennessee to empower caregivers to tap into and organize the help they need from family, friends, and neighbors using Communities at Lotsa. In addition, AARP Tennessee will have access to Lotsa's innovative service to bring together volunteers and caregivers in local towns and neighborhoods who want to rally around a service project, multiple families facing a medical crisis, or help for a homebound aging neighbor.





Lotsa Tips — New Features Added!

To help you get the most out of your Community, we have new tips to make helping even easier. Looking for more help using your Lotsa Community? Visit our How it Works Page for additional tips and ideas or contact our Member Support Center to get your questions answered!

Tip 1 – Keep Me Signed In — We're excited to have a new feature to make signing into your Communities easier! If you'd prefer to not enter your username and password each time you visit your Lotsa community, you can simply check the box labeled "Keep Me Signed In" and you'll be taken right to your community without requiring you to sign in each time.

Tip 2 – Add Activities to Your Google or Outlook Calendar — You can now easily add Activities you've signed up for directly on to your own personal Google or Outlook calendar. When viewing the details for specific activities on the calendar, you'll see a link at the bottom of the window to "Add to Google Calendar or Other Calendar (iCal/Outlook)." Simply click, and you'll be all set!

Tip 3 – Suggest an Activity — While meals and rides are the most common types of Activities we see organized in Lotsa Communities, there is no limit to the number and variety of Activities that can be scheduled in your Community. Use the 'Contact a Coordinator' link at the bottom of every page to suggest something like a weekly phone call or visit. You never know what little Activity might make a big difference!

If you have additional questions, contact us at info@lotsahelpinghands.com.





Join the Conversation on our Lotsa Blog

Check out the latest from our blog and read about how our Communities work, learn about resources from our many nonprofit partners, and hear stories from the people behind Lotsa. To keep up with our latest posts, subscribe to our blog for the latest news.

Caring for a Loved One with A Brain Tumor

Heart Health by the Numbers – 10 Years of Go Red

I Have a Dream – Two Ways Caregivers Can Help Loved Ones Achieve Their End-of-Life Wishes

Caring for the Caregiver: Finding the Right Recipe