Sponsor
Help a Caregiver Relax

Caregivers who work tirelessly to care for an aging loved one deserve a break. Nominate a caregiver for Home Instead Senior Care's Caregiver Cruise Giveaway Contest. The winner will enjoy a four-night cruise to the Bahamas, plus 40 hours of in-home care services for a loved one.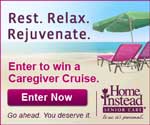 Sign into your Community
Check in on your Community, share a photo or well wish or sign up to help. Sign into your Community here.


Lotsa Marketplace
Have you visited the Lotsa Marketplace recently? When we find products and services that would be of use to our members, we want to share them with you. Check out the companies we have listed for special deals and products that may help along your journey.


Resources for You
Lotsa Helping Hands partners with more than 50 of the nation's leading nonprofit organizations that provide information and resources to members of its communities. Check out our partners to learn more.
Get Started
Lotsa Helping Hands powers online caring Communities that help restore health and balance to caregivers' lives. The free service brings together caregivers and volunteers through online Communities that organize daily life during times of medical crisis or caregiver exhaustion in neighborhoods and communities worldwide. Create a Community for yourself or someone you love today.


Share Lotsa Today!
Finished reading the newsletter? Take a moment to share Lotsa with friends and loved ones.

Dear Friend,

WELCOME TO LOTSA COMMUNITY WORKS

Featured this month:
Former First Lady Rosalynn Carter once said, "There are four kinds of people in this world: those who have been caregivers, those who currently are caregivers, those who will be caregivers, and those who will need caregivers."

I would add to this truth that all of us, at any particular moment, know at least one person who at that time is faced with the challenges of caregiving. Very recently I again witnessed first-hand how Lotsa Helping Hands can have a profound effect not only on the family caregivers and the patient, but also on the community of volunteers and supporters that rally behind them.

Late in July, my twenty-two year old nephew was informed he had a brain tumor twice the size of a golf ball, requiring immediate surgery. My sister and her family, led by my niece, reached out to their extended family and circles of friends and created a Lotsa Helping Hands Community, now almost 100 people strong. Over on the Lotsa blog, I've shared more about the truly amazing support that my nephew and his family are receiving, and the rediscovery of what it means to be in community with loved ones and strangers alike.

This August, if you know someone who is caring for a loved one, consider creating a community for them. It only takes a minute, and it's one of the easiest ways to offer your help and support during a tough time. And you may be surprised how the help and support extends far beyond the family you are helping!

From our Community to yours,

Hal Chapel, Co-Founder & CEO





News

Download Lotsa's Free Mobile App

– Stay connected to your community
– Create a new community
– Add tasks to your own calendar
– Receive updates




5 Ideas to Help You Find Senior Care Online
Caring.com put together 5 ideas to supplement the help you receive from friendly supporters. Check out their blog and read about the online resources that can help you find ongoing senior care.

Hear about Lotsa Online
Tune in to hear how Lotsa supports caregivers on NPR's It's Your Health, learn about communities of support on Toula's Tips for Caregivers and listen in to Secrets to Living Better at 50+ to hear tips on how you can be better prepared for caregiving.





Lotsa Tips — Get the Most out of your Community

Read our tips below to learn how you can get the most out of Lotsa Helping Hands. And if you're looking for more ideas for your Lotsa Community, head over to our How it Works Page, or contact our Member Support Center to get your questions answered!

1. Easily Switch Between Multiple Lotsa Communities — More than 30% of our Members are in more than one Community, whether it's helping a neighbor with breast cancer or organizing volunteers in their child's classroom at school. When joining, creating or accessing a 2nd (or 3rd, or 4th!) Community web site, you'll always use the same email address and password. When you are a Member of multiple Community web sites, the orange 'Sign In' menu at the top of the page will give you the option to 'Switch to Another Community'. Simply click this and you'll be able to easily navigate between every Community you are participating in.

2. Organize Groups! — Did you know you can organize your Community into smaller sub-groups for even easier organization? Community Leaders can use the 'Add Groups' and 'Manage Groups' links in the Administration tab to segment their helpers into smaller groups who can be contacted directly and organized to participate in select Activities. You can have a rides group or a group dedicated to delivering meals or coordinating child care. You can even turn Community Sections and Activities on or off for certain groups by editing the Permissions of each. There are so many ways to use this feature. Let us know if you need ideas.





Join the Conversation on our Lotsa Blog

Check out the latest from our blog including stories from the people behind Lotsa and resources from our nonprofit partners. To keep up with our latest posts, subscribe to our blog.

5 Ideas to Help You Find Senior Care Online

How to Offer Help That's Really Helpful from Caring.com

GreatCall – Technology to Help Your Aging Loved One

Caring for a Loved One with A Brain Tumor

Heart Health by the Numbers – 10 Years of Go Red