Sponsor Highlight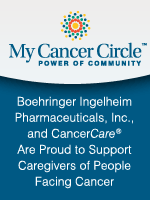 Boehringer Ingelheim Pharmaceuticals, Inc., and CancerCare® Are Proud to Support Caregivers of People Facing Cancer

My Cancer Circle helps caregivers coordinate efforts of family, friends and volunteers who have stepped forward to support them and their loved one with cancer.

Learn more about My Cancer Circle today.
Sign into your Community
Check in on your Community, share a photo or well wish or sign up to help. Sign into your Community here.


Lotsa Marketplace
Have you visited the Lotsa Marketplace recently? When we find products and services that would be of use to our members, we want to share them with you. Check out the companies we have listed for special deals and products that may help along your journey.


Resources for You
Lotsa Helping Hands partners with more than 50 of the nation's leading nonprofit organizations that provide information and resources to members of its communities. Check out our partners to learn more.
Get Started
Lotsa Helping Hands powers online caring Communities that help restore health and balance to caregivers' lives. The free service brings together caregivers and volunteers through online Communities that organize daily life during times of medical crisis or caregiver exhaustion in neighborhoods and communities worldwide. Create a Community for yourself or someone you love today.


Share Lotsa Today!
Finished reading the newsletter? Take a moment to share Lotsa with friends and loved ones.

Dear Friend,

WELCOME TO LOTSA COMMUNITY WORKS

Featured this month:
Each fall, we begin to see a lot more pink. Whether it's ribbons at the grocery store or friends coming together to walk for a cure, Breast Cancer Awareness Month in October is one of the largest annual international health campaigns. Organized by major breast cancer charities every October, the goal is to increase awareness of the disease and to raise funds for research. October is Breast Cancer Awareness Month, and it's big and pink.

So often we find ourselves overwhelmed by the big stuff. But when caring for a loved one with breast cancer, Alzheimer's Disease, or recovering from a heart attack, even the small items on our to-do lists can seem huge. Which is why this month we wanted to remind you of the small ways you can help a caregiver. From offering to deliver a meal, to making a run to the store to pick up a few supplies for a family, these small offers of help can make a big difference in a caregiver's life.

This October, if you know someone who is caring for a loved one, consider offering to help. For tips on the best ways to help, read our blog 4 Tips for Offering Help to a Cancer Caregiver.

From our Community to yours,

Hal Chapel, Co-Founder & CEO





Partner Spotlight

Crohn's and Colitis Foundation of America

We're very excited to announce our newest partner, The Crohn's & Colitis Foundation of America. The new CCFA communities will support caregivers of patients with Crohn's disease and ulcerative colitis, enabling a family member, friend, colleague, or neighbor to create a private, online community to help caregivers organize help from their circles of community during times of medical crisis or exhaustion when daily tasks become a challenge. Learn more or create a CCFA community today.





Lotsa News

Share How You Helped A Caregiver During The Year of Helping Hands

Last November, we declared 2013 The Year of Helping Hands in an effort to support our nation's more than 65 million caregivers. Thousands of you joined in and promised to help a caregiver. From offering to bring a meal to a neighbor to volunteering at a local senior home, we were touched to read about all the ways you offered to help. This October, share your experience and we'll share your story during National Family Caregivers Month this November.





Lotsa Tips — Get the Most out of your Community

Read our tips below to learn how you can get the most out of Lotsa Helping Hands. And if you're looking for more ideas for your Lotsa Community, head over to our How it Works Page, or contact our Member Support Center to get your questions answered!

1. Help with the Little Things — There's a lot to be done in the fall. Ask a caregiver if you can help put out fall decorations, or pick up Halloween candy next time you're out. It's just a small task, but it might be something your loved one, friend or neighbor forgot about with all that's on their mind.

2. Create a Custom Section — Whether it's to post dietary restrictions for family members, notes on what to expect as a volunteer or a personal blog, Custom Sections are a quick and easy way to customize your Community to meet it's unique needs. Visit the 'Administration' tab and click on 'Add a Custom Section' from the 'Community' column on the right. You can choose if you'd prefer it to be a gallery, button or general section. Next, give it a title and description, customize your permissions, and start sharing!





Join the Conversation on our Lotsa Blog

Check out the latest from our blog including stories from the people behind Lotsa and resources from our nonprofit partners. To keep up with our latest posts, subscribe to our blog.

The Changing Landscape of Caregiving

Support, camaraderie and books

Community Helps Everyone Involved

5 Ideas to Help You Find Senior Care Online

How to Offer Help That's Really Helpful